<![if !vml]>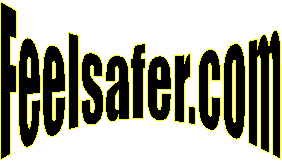 <![endif]>

Where The World Can Find IN GLASS Mail Slots !!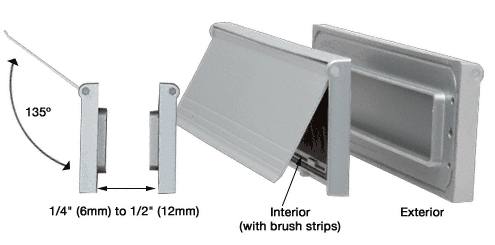 Satin Anodized No-Draft 11-1/2" Mail Slot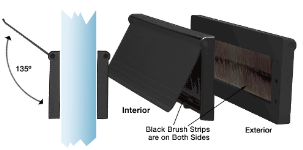 Energy Efficient, Ideal For All Climates
Large 11-1/2" (292 mm) Mail Slot to Receive Small Packages


Internal Brush Strip for Added Insulation and Privacy Telescopic Sleeve Allows For a Perfect Fit on All Glass Doors From 1/4" to 1/2" (6 to 12 mm) Thick


Available in Two Popular Finishes, Satin Anodized and Duranodic Bronze
No-Draft Mail Slot is designed to keep out the weather as well as dust and dirt. The No-Draft Mail Slot has two door flaps, both spring loaded and weather-stripped, as well as an internal brush strip for greater insulation and privacy. Both the external and internal flaps open to 135º for easy access as well as both have durable nylon torsion rods instead of springs to keep both flaps tightly shut. Made from high impact ABS plastic and anodized aluminum, the No-Draft Mail Slot will not rust or tarnish over time. Easy to install by simply running a bead of silicone on both the interior and exterior sleeves and attaching each side to the glass around the 10-1/4 inch (260 millimeter) wide x 1-7/8 inch (47.6 millimeter) high cutout. Glass Fabrication is required. Instructions are included.
Model MSSA clear anodized mail slot $ 119.00
Model MSDB Dark Bronze Finish Mail slot $ 129.00
estimate shipping UPS Ground $ 12.00 to 15.00 delivered in the US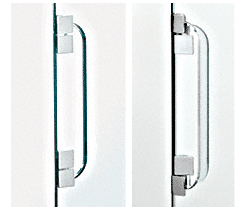 Polished Chrome Finish Frameless Mail Slot
Designed For Use With Frameless All Glass Entrance Doors

Available in Several Architectural Finishes

A Beautiful Alternative to the Traditional Aluminum Mail Slot

This Frameless Mail Slot is for 1/2 inch (12.7 millimeter) thick all glass commercial entrance doors.

This easy to install unit features a 1/2 inch (12.7 millimeter) glass flap with a pair of brass constructed spring hinges.

Available in several architectural finishes
MS500-CH $ 106.00 PLUS FREIGHT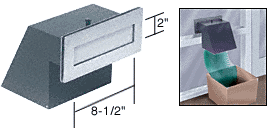 Deluxe Thru-Glass Video/DVD Drop
Full Size Opening Directs Video Tapes to Collection Bin
Brushed Stainless Steel Face Plate
Installs in 1/4" (6 mm) Glass
The Deluxe Thru-Glass Video Tape Drop allows customers to return videos after business hours while maintaining store security.
The unit fits through a cut-out in the glass and clamps together by tightening four screws. Brushed stainless steel face place has an 8-1/2 inch (216 millimeters) wide x two inch (51 millimeters) high deposit slot backed by a spring loaded flap that helps reduce air infiltration. A detachable rear chute cover provides additional security, and has a removable spring loaded bar at the base for attachment of the vinyl slide to gently and safely direct videos to your collection bin.
DVD82 $ 495.00 PLUS FREIGHT


In glass mail Slots
Note: These units are designed to work with 1/4" Plate Glass Only
These units can not be used on Tempered Glass
Or Glass that is Sealed with a Gas Barrier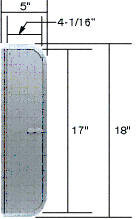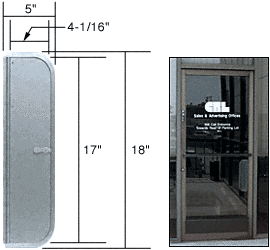 5" x 18" Satin Anodized Finish Package Drop Slot Model 9518A or dura bronze 9518DURA FINISH
Inside dimensions are 14" 1/16 x 17"
Spring Loaded and Latch able Flap

Made to Fit 1/4" (6 mm) Glass with Seven Sizes and Two Finishes Available

No Mounting Screws Required
THE Aluminum Package Slots are a wider version of our Deluxe Mail Slots.
They are preferred in facilities where larger parcels such as manuscripts, legal briefs, computer tapes and discs are delivered.
Designed to fit into glass doors or side lites glazed with 1/4 inch (6 millimeter) glass.
The flap is spring loaded to return to the closed position. A turn latch on the flap allows for securing the flap at night, or when not in use.
Units are available in the following sizes and two finishes


Add $ 10.00 to the prices below for Dark- Bronze finish
AVAILABLE IN THE FOLLOWING SIZES or FINISHES+ PLUS FREIGHT

PRICE FOR SINGLE QUANTITIES
Opening Size/ Price
3-9/16 X 11 / SP9412/ PRICE 98.00
3-1/16 X 13 / SP9414/ PRICE $ 99.00
3-1/16 X 15 --SP9416/ PRICE $ 102.00
3-1/16 X 17 --SP-9418A / PRICE $ 103.00
4-1/16 X 13 --SP9514/ PRICE $ 100.00
4-1/16 X 15 --SP9516/ PRICE $ 104.00
4-1/16 x 17--SP9518 / Price $ 108.00
10 X 8-1/4 Inch / SP300A $ 198.00
4-1/4 X 8-7/8-SP522A/ PRICE $ 112.00
4-1/4 X 11-1/2--SP532A/ PRICE $ 136.00
PLUS SHIPPING BY UPS GROUND

In glass Small Mail Slots
Note: These units are designed to work with 1/4" Plate Glass Only
These units can not be used on Tempered Glass
Or Glass that is Sealed with a Gas Barrier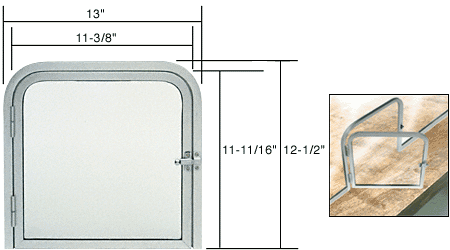 11-3/8 X 11-11/16" Opening Satin Anodized Finish Package Slot with Left Hinged Clear View Door
Left or Right Handed Models Available in Two Finishes

Door Glazed with 1/4" (6 mm) Clear Glass
The Clear View Package Door provides an unobstructed view of items to be passed before door is opened. It is glazed with 1/4 inch (6 millimeter) clear glass, and includes 1/4 inch (6 millimeter) vinyl for glazing the frame in the cut-out. Spring loaded metal latch for security and years of reliable service. Available in Satin Anodized or Duranodic Bronze finishes. Hinged left or right from clerk side.
SP1213Ld $ 239.00 PLUS UPS ground FREIGHT
<![if !vml]>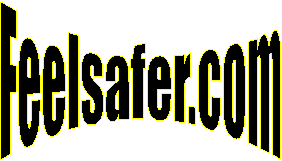 <![endif]>


Questions ?

Major Credit Cards Accepted
Call 915-240-4747
Security Product's Unlimited
Saves You Money