Welcome to


Retail Loss Prevention Products
Easy to Install -a Lot For Less
!!!
Prevent shoplifting at Your Store.
One Pedestal Does It all !!!!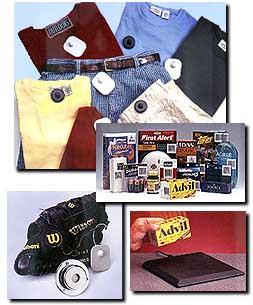 Detects Paper and Hard Tags-on each side. Wow!!!
DETECTS UP TO 6 FEET WITH PAPER LABELS 3 feet either side
UP TO 8' WITH HARD TAGS-4 feet either side !!!!

This systems is a user friendly, full-featured electronic loss prevention solutions. The System is self-installable and requires little or no technical experience. The rugged and attractive systems virtually eliminate expensive on-site service and false alarms that plague competitive systems.

Finally a user friendly, full-featured electronic loss prevention solution
.
That more than affordable
Simple one PEDESTAL INSTALLATION
DETECTS HARD TAGS
AND
PAPER TAGS
FROM JUST ONE PEDESTAL
FOUR FEET ON EITHER SIDE WITH HARD TAGS
3 FEET ON EITHER SIDE WITH PAPER LABELS
FAST & EASY INSTALATION- Just TWO 3.5" LAG BOLTS
BASE PLATE FOR FASTER SET UP also AVAILABLE
THE EASYONE LOSS PREVENTION SYSTEM is self-installable and requires little or no technical experience.
The rugged and attractive systems virtually eliminate expensive on-site service and false alarms that plague competitive systems.
UNIVERSAL (RF) DEACTIVATION UNIT AND PAD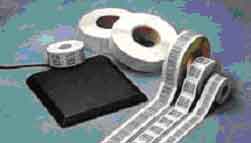 Non-contact deactivation can give the progressive retailers an advantage in today's competitive market. With the non-contact deactivation unit a retailer can now automatically deactivate a security label as it passes over the detection field. Using the enhanced features of our deactivation technology, the pad disables the tags over a larger deactivation field made possible with our state of the art electronics design.
With non-contact deactivation, the sales associate can now deactivate security labels without knowing their exact location.

No other deactivation technology comes close in a feature for feature comparison.
Loss Prevention technology with refined RF deactivation technology offering the only user installable unit that is universally compatible with any EAS security system and scanner manufacturer.
Our new product is priced by far the lowest in the industry and offers you the opportunity to save hundreds of dollars in installation cost associated with all of our competitors products.

Our deactivation process is quick, reliable and effortless. Customers are unaware that the entire process has taken place.
Protect your assets with the following Products
PRESSURE-SENSITIVE LABELS
Disposable pressure-sensitive labels are ideal for a wide range of items, including videotapes, meats, and health and beauty care. Pressure-Sensitive labels are especially good for use with small, hard-to-protect merchandise. Most are automatically de-activate. Available in plain white, simulated bar code, or with other promotional messages.



HARD TAGS
Durable, reusable hard tags in two versions provide maximum protection for furs, luggage and other high-ticket items. They're EASONE attached and EASONE detached at the point-of sale. The unique locking system makes them nearly impossible for shoplifters to remove.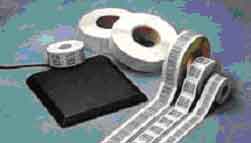 DEACTIVATION
The deactivation pad streamlines customer throughput by providing state-of-the-art proximity deactivation for the lowest cost in the industry.

size: Pad - 9.5" x 9.5" Chassis - 5" x 4" x 1"

Weight: Pad - 1.2 lbs. Chassis - 1.4 lbs.

Power: 120/220 VAC, 50-60 Hz.

Color: Black



ACCESSORIES
Security Products Unlimited offers a variety of detachers and pins for all types of hard tags on the market. The magnetic detacher is used to release a pin from any type of Radio Frequency hard tag with a magnetic lock.
The tabletop detacher is manufactured with a durable scratch resistant black finish and can be secured to any checkout counter.
Lanyards may be used in conjunction with any Hard tag, which allows protection of hard goods with a closed loop opening.
Deactivation Specifications:

Compatible with any RF security system in the world without the need for slaving.

Lowest cost deactivation unit in the world.

All units come with dual tones.
First tone detects when a label is present, second tone informs the user the label is deactivated.

Compatible with any scanner.

Deactivation height comparable with any manufacturer in the world.(10")

Available with a durable countertop pad.

System Prices:
Model 2000 dual tag Loss prevention system $1,295.00
Mini base plate $95.00
Deactivation Pad $365.00
This system Uses Both Soft Labels and Hard Tags

1000 hard tags 8.2 MHz with pins $495.00 or .49 cents each with pin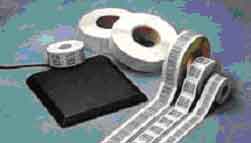 2000 qty 8.2 MHz paper labels $126.00
available in rolls of 500 qty
2,000 stick on labels: .063 x 2,000= $126.00
5000 stick on labels: .060 x 5000= $ 300.00
10,000 stick on labels: .050 x 10,000= $500.00
20,000 stick on labels: .040 x 20,000= $800.00
40,000 stick on labels: .037 x 40,000= $1480.00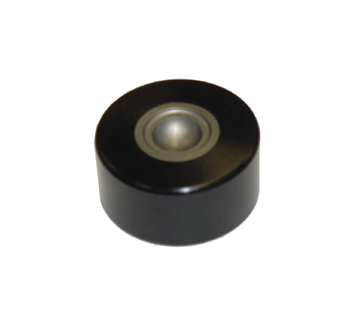 DETACHER FOR HARD TAGS $ 85.00
Freight price on System anywhere in the U.S. $75.00 max
THIS SYSTEM WORKS WITH ANY 8.2 Mhz. LABELS
that
you may currently own from other systems.
Three Systems to Choose From
EASONE-1000
EASONE-1000 is a single panel HARD TAG SYSTEM. The EASONE-1000 gives you reliable protection between 8-10 feet with a single panel. Two EASONE-1000 antennas are capable of protecting store openings of 16-20 feet with no interconnecting cables. The EASONE-1000 is available at 4.6 MHz. and 8.2 MHz.

EASONE-2000
EASONE-2000 gives you 3-4 feet of detection with paper labels or hard tags. This 8.2 MHz. swept system is totally user installable with a base plate. The EASONE-2000 is the most economically priced system on the market today.

EASONE-3000
EASONE-3000 is the newest 6-foot label system in the market. EASONE-3000 is a single panel pulsed system that incorporates a new technology called channeling. With the EASONE-3000 you can change the way the system processed environmental noises, thus eliminating false alarms and the need for slaving.

30 Day Money Back Guarantee

Major Credit Cards Accepted
Call 915-240-4747 and Order Today,

Saves You M