<![if !vml]>

<![endif]>
Needing A Higher Level of Security
Non-Ricochet -"Bullet Resistant " Deal Trays
Inner, Curved Design Provides Effective Bullet Resistance
The shape assists in retaining the bullet inside the tray or directing it back towards the glass above
Level 1 or Level 3 Protection Available
<![if !vml]>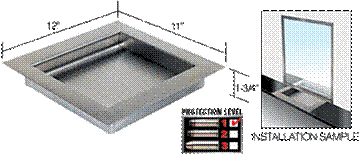 <![endif]>
Bullet Resistant- Ricochet Resistant Deal Trays
Bullet Resistant- Ricochet Resistant Deal Trays
<![if !vml]>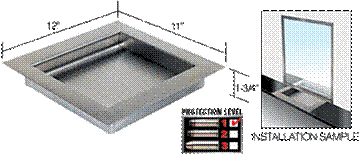 <![endif]>
Needing A Higher Level of Security
Non-Ricochet -
"Bullet Resistant " Deal Trays
Inner, Curved Design Provides Effective Bullet Resistance
The shape assists in retaining the bullet inside the tray or directing it back towards the glass above
Level 1 or Level 3 Protection Available
<![if !vml]>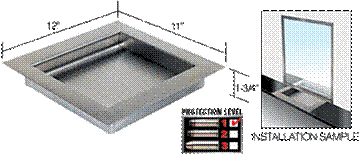 <![endif]>
Bullet Resistant Deal Trays
have a specially shaped inner curved design that will provide more effective bullet resistance.
The shape assists in retaining the bullet inside the tray or directing it back towards the glass above, depending upon the angle of entry.
These easy to install trays are available in Level 1 or Level 3 Ballistic
Constructed: brushed stainless steel.
Two sizes of each level are available.
Inner, Curved Design Provides Effective Bullet Resistance
Finish : Brushed Stainless Steel
Level 1 or Level 3 Protection Available
Bullet Resistant Deal Trays
Model 12
level 1 Bullet resistant
$ call for pricing
Model 12
level 3 Bullet resistant
$ call for pricing

Measures 12" W x 11" D x 2" H Drop-In Deal Tray
Inner, Curved Design Provides Effective Bullet Resistance

<![if !vml]>
<![endif]>
Bullet Resistant Deal Trays
Non-Ricochet Level 1 Bullet Resistant
measures 16" W x 11" D x 1-3/4" H Drop-In Deal Tray
· Inner, Curved Design Provides Effective Bullet Resistance
Non-Ricochet Level 1 Bullet Resistant 16" W x 11" D x 2" deep Drop-In Deal Tray
Model 16
level 1 Bullet resistant
$
all for pricing
Model 16
level 3 Bullet resistant
$
all for pricing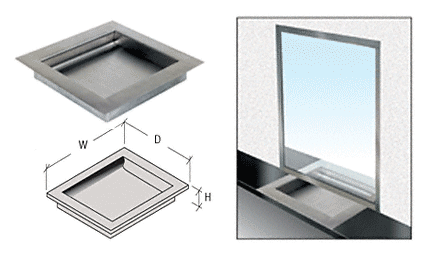 915-240-4747